Digital Study models are offered by Ferraro Orthodontics. The digital study model is a 3 dimensional digital image of a standard study model. The 3D models are easy to access and can be used for study purposes as well as in patient consultations.
Completely eliminates storage issues of the standard models.
Software is fully equipped with easy to use diagnostic tools.
Physical models can be recreated if required.
Regular stock trays and alginate impressions are accepted.
Installation and set-up is quick and easy.
Easy to operate.
Looks highly professional.
Just another way Ferraro Orthodontics is trying to help their customers succeed.
To inquire or set-up a no obligation meeting or free trial period, please call or email us.
We would be happy to conveniently come to your office.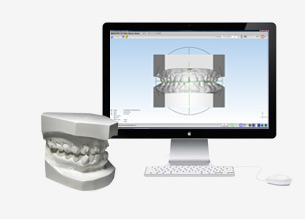 See the Digital 3D Modeling System in action >>>